Escape to Romance and Luxury in the Golan Heights
Are you looking for a romantic and enchanting vacation? A private pool, breathtaking views, and a serene atmosphere await you in the unique village of Ramot. Located on the shores of the Sea of Galilee, Ramot invites you to experience the perfect pampering getaway that will sweep you off your feet. Say goodbye to the ordinary and immerse yourself in an original and refreshing concept "on the water." In this article, we will delve into the world of love and romance, revealing the secret treasures of romantic suites with private pools in the mesmerizing Golan Heights. Get ready to be captivated by the beauty and luxury that awaits you.
Discover the Allure of Romantic Suites with Private Pools
In the heart of Ramot, you will find two magnificent romantic suites that redefine indulgence. Each suite boasts a breathtaking design that will captivate your senses from the moment you step inside. The highlight of these suites is the private and beautifully landscaped garden, exclusively designed for you, featuring an amazing heated pool. Imagine the pleasure of swimming while overlooking a panoramic view that stretches across the tranquil landscape and the majestic Sea of Galilee. The quality of the hospitality experience is unparalleled, offering you a variety of luxuries and surprises. Whether you are planning a romantic getaway, a special celebration, or a surprise, Love and Romance is the perfect destination.
A Gem in the Golan Heights
Ramot is considered one of the best tourist destinations in the southern Golan Heights and the Sea of Galilee region. From the moment you step out of your suite, you will have access to a wide range of attractions. Take a horseback riding or jeep tour right from the village, explore breathtaking hiking trails, dine in quality restaurants, and much more. The location offers a wonderful opportunity to immerse yourself in nature and enjoy a variety of outdoor activities, all within a short drive.
Unforgettable Winter Experiences
During the winter season, the cabins are well-heated and constructed with warm and cozy rustic wood. Each cabin features a private heated and indoor pool, allowing you to swim and relax regardless of the weather outside. Additionally, the location of the resort ensures easy access to stunning viewpoints and amazing snow trips within a short drive. Embrace the winter wonderland and enjoy a romantic escape like no other.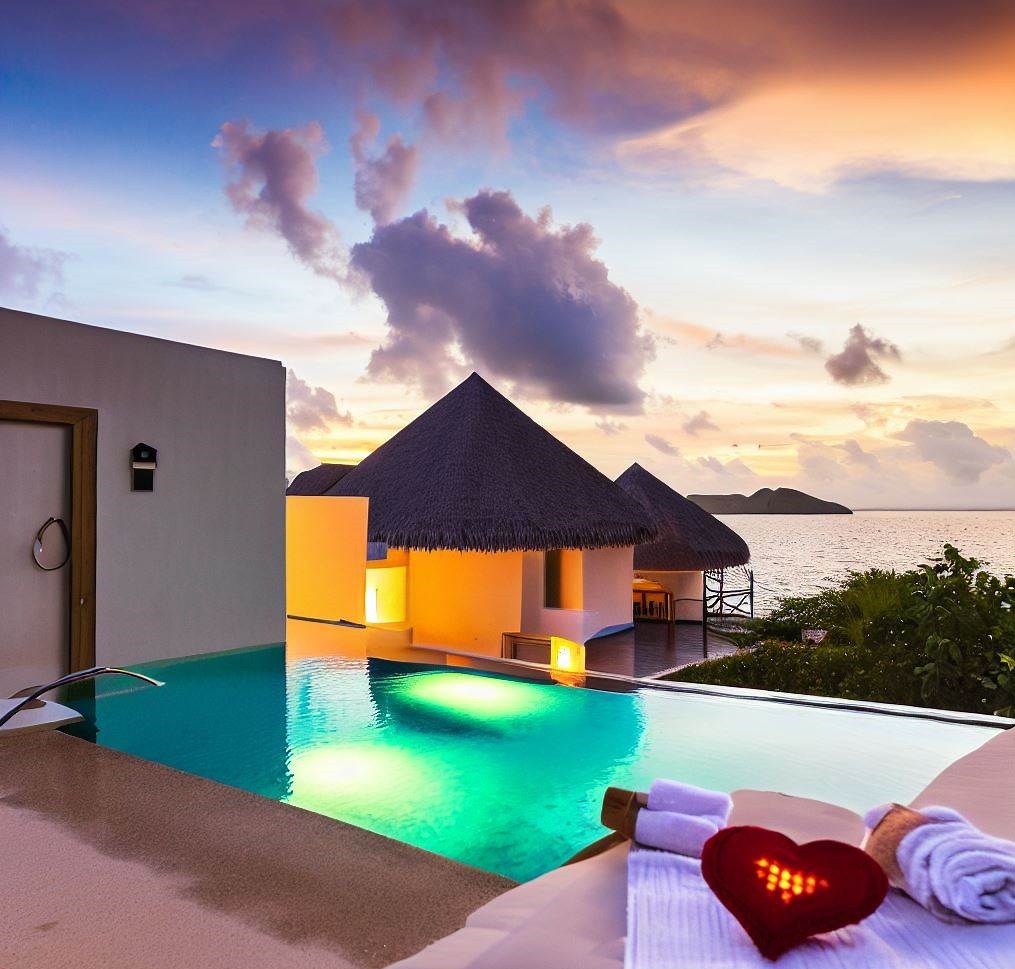 Indulge in Luxury
As part of your accommodation, each cabin offers a complimentary bottle of fine wine, a fully stocked minibar, hot beverages, seasonal fruits, cookies, chocolates, bathrobes, spa slippers, toiletries, scented oils, and candles. Every detail is designed to enhance your experience and create a romantic and luxurious atmosphere. Relax, unwind, and let yourself be pampered in style.
Experience Romance and Luxury
Four luxurious and indulgent suites immersed in greenery, with a spa complex at their center, including a swimming pool, Jacuzzi, and sauna.
To view the booking policy and terms, click here.
Please note that the information displayed on our website, including availability, prices, and promotions, is updated and verified. You can check and make reservations with confidence and love.
For further inquiries or questions, we are here to serve you.
Experience Unforgettable Romance Today!
Immerse yourself in the perfect romantic escape at Love and Romance in the Golan Heights. Book your dream getaway now and create unforgettable memories. Share the love, share the beauty, and experience romance at its finest.
Engage with us, share your experiences, and leave comments below. Visit our website for more information and related resources.
We look forward to being a part of your romantic journey.